Crowns & Bridges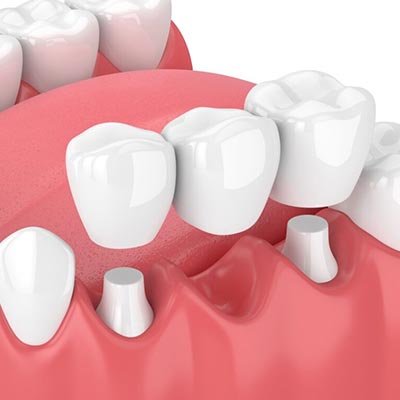 Let's talk about your damaged tooth. Maybe it's worn down. Maybe it's cracked or there are other issues. Maybe you don't even notice that bad tooth very much even when you eat but it's compromising your dental health.
How Crowns Are Used:
Dental crowns are artificial tops that are used to repair damaged teeth. They are highly effective in:
Repairing cracked teeth
Repairing broken teeth
Supporting large fillings
Used in conjunction with dental implants
Used in conjunction with root canals
There are a variety of crowns and bridges and we will review your status with you to determine which option is best. We have many options for repairing your damaged teeth. Our technology and skill makes correcting compromised teeth comfortable with long lasting results.
We have our own on-site dental lab which means we can control all of the work done to create your crown or bridge.
The Types of Crowns We Make
Metal
Porcelain-fused-to-metal
All-resin
All-ceramic or All-porcelain
In our initial consultation, we'll explain in more detail once we've had a look at your teeth. We have many options for performing this treatment that will be best suited for your bite and smile.
Compromised teeth aren't just a cosmetic problem. Fixing them restores your functionality and dental health.