Emergency Dentistry
What dental issues are considered an emergency?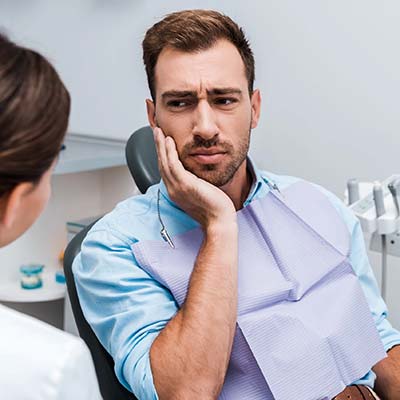 If you suffer a dental incident, call the WPD Dental Group as soon as possible. The team can provide you advice as to whether you need immediate attention. For example, a small chip can maybe wait a few days for treatment while a considerable crack needs care right away.
The most common dental emergencies include:
A knocked-out tooth
Severe swelling or an abscess
Serious tooth or gum pain
A cracked, chipped, or fractured tooth
Uncontrollable bleeding from the mouth
If you have a dental emergency, we can fit you in for an appointment right away to alleviate pain and potentially save any damaged teeth.
What should I do in case of a dental emergency?
Of course, call WPD Dental Group when you have any oral health issue that raises your concern, even if it's after business hours.
Take action until you can make it to your appointment.
For pain and swelling, apply ice packs to the outside of your mouth at the affected area. If you've knocked out a tooth, gently brush it off but handle it as little as possible. Hold it in a cup of milk or, if possible, place it back in the socket and let it sit there until you can reach the office.
Cracked or severely chipped teeth should also be treated as an emergency. Rinse your mouth with warm water and schedule to come into the office right away. Also rinse with warm water if you have a severe toothache and remove any food stuck between your teeth with dental floss.
How can I prevent a dental emergency?
Dental emergencies can't always be prevented, but you can take precautions to minimize your risk. If you play a contact sport, be sure to wear the appropriate face masks and mouthguards to prevent injury to your mouth and teeth. Don't chew ice, popcorn kernels, or other hard objects. Keep up with your oral hygiene — brushing twice per day, flossing once per day, and coming in for regular dental cleanings and checkups. The team can catch a potential infection early before it leads to a complicated emergency.
If you're suffering a dental emergency, no need to wait days for an appointment. Call WPD Dental Group or book an appointment right away using this website.